News

Tourism Too Deadly
Freeman Productions was engaged by Tourism Queensland under funding provided by the Federal Department of Resources Energy and Tourism to pursue some initiatives aimed at providing a higher profile for tourism as a career choice for young Indigenous people.
So, Freeman Productions conceived and executed a 3 part project called Tourism Too Deadly.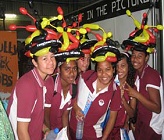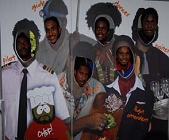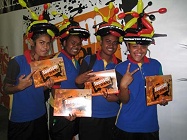 ---
Tourism Too Deadly Career Expos
Two Tourism Expos provided a forum for a profile boost for Indigenous Tourism. A Tourism Too Deadly booth was designed, entitled "Put Yourself in the Picture" Booth attendants were all Indigenous and represented a variety of occupations. Students had an opportunity to talk to and ask questions of Aboriginal and Torres Strait Islander people who were actively employed in tourism.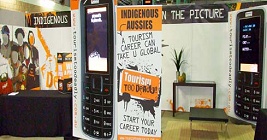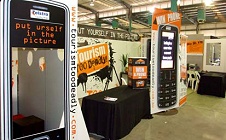 ---
Tourism Too Deadly 5 Day Intensive
In discussion with the Department Of Education and the ISSU, Freeman Productions developed a 5 night /4 day Tourism intensive designed to expose tourism to students wmight be considering it as a career choice. 30 students were selected and the local tourism industry also weighed heavily into Tourism Too Deadly with fifteen major operators participating. This program was about linkage - linking together the participating students, the indigenous tourism operators, the mainstream tourism operators and also the indigenous staff already working in tourism who are the role models for future staff.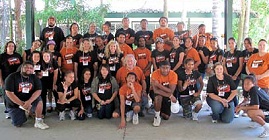 ---
Indigenous Tourism Networking Dinner
The first Queensland Indigenous Tourism Networking Dinner was a function aimed at closing the gap between potential employers, the Indigenous workforce that we have in tourism in North Queensland and potential employees. The dinner brought together the participating Indigenous students, the host organizations, and many Indigenous staff currently employed in the tourism industry. There is a need to connect the Indigenouspeople employed in tourism to share experiences, support each other, and mentor the new entrants from programs such as Tourism Too Deadly.

---
East Kimberleys
Freeman Productions spent some time in the East Kimberleys of Western Australia in a place called Kunnunarra to look at the possibilities that might present to the Gelganyem Trust and engage the Aboriginal community. Meetings were held with community members, arts organizations, mainstream tourism operators, and tourism bodies.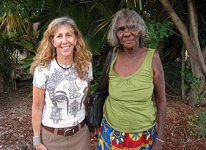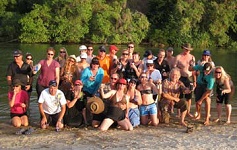 ---
Girudala Community Co-operative Society
Freeman Productions was contracted in February 2009 to examine the possibility of the Girudala Community Co-operative Society located in Bowen, to for the further expansion of their business, community service and training portfolio, and have completed an investigation, community consultation and a positive report on a future project.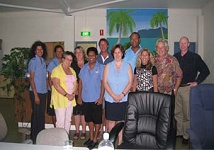 ---
Indigineous Business Ready Program
It was goodbye to Cape York Turtle Rescue, Aurukun Wetland Charters and Walker Family Tours as the Indigineous Business Ready program has run its course.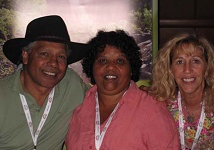 The Australian Indigenous Tourism Conference was attended by Freeman Productions and Francis Walker.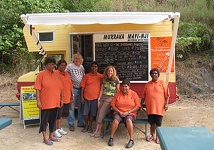 Murraka Mayi-ji means "motor car with food" and the ladies from Walker Family Tours had the opportunity of morning and afternoon teas and lunches.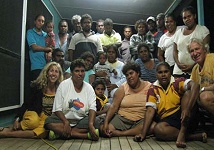 It was a family affair to say good bye to Freeman Productions
---
Aurukun Traditional Owners in Cairns
A visioning workshop for the Wik and Wik Waya elders of the various family groups and the directors of their business ventures was held in Cairns In a bold and innovative move the Wik and Wik Waya people held meetings over 5 days to develop a strategy that will prove to be a strong affirmative action plan for their future.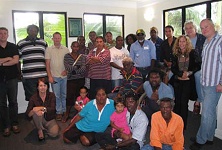 ---
Asia Pacific Cultural Tourism Strategies
Don and Judy Freeman addressed a group of women from the Asia Pacific region in Cairns recently. They spoke about not only the various Cultural Tourism projects that they are engaged in, but how government and private enterprise can be involved in the development of successful Cultural Tourism strategies.
Former member for Barron River Dr Lesley Clark has designed a course to encourage women to run for and win elected office in the Asia Pacific Region
"At present, the representation of women in parliaments in the Pacific is the lowest in the world at just 4%."
The inaugural program has 18 women participants from PNG, the Solomon Islands and Timor Leste and includes women Ministers, MPs and aspiring candidates as well as observers from organisations such as UNIFEM, the United Nations Development Fund for Women.
There was keen interest from the group in how Freeman Productions designed and created cultural tourism attractions such as Tjapukai as well as how government can assist in the process.
---
Freemans Named As Travel + Leisure 2007 Innovators Award Winners
The significant legacy of local indigenous tourism pioneers Don and Judy Freeman of Kuranda has been recognised in the 2007 T+L Travel Innovators Awards.
T+L editor Anthony Dennis said the awards saluted 20 Australian individuals and partnerships, who, through their vision, flair and dedication, enhanced the experience of travel.
"These awards are pertinent since the Australian travel industry is being directly encouraged, by the tourism lobby groups such as ATEC and the Federal Minister for Tourism, Fran Bailey, to innovate in order to better compete in the international and domestic travel markets," he said.
Twenty years ago, Don and Judy Freeman started Tjapukai Dance Theatre in Kuranda, which since evolved to Tjapukai Aboriginal Cultural Park at Smithfield, today Australia's most awarded and patronised Aboriginal cultural attraction.
Judy Freeman said their chief reward has always been in the creative process.
"To innovate is to usher in something new, and for us the most satisfaction comes from creating new concepts. The pleasure of forging a new path, the exhilaration of having no creative limits on your expression is a heady mix. Taking risks and seeing an idea grow organically from a glimmer of intent into a strong and vibrant entity is the ultimate satisfaction," said Mrs Freeman.
After helping forge a modern outlet for a 40,000 year culture, Don and Judy Freeman are now developing, via their consultancy Freeman Productions, major business projects nationwide involving both private and government sector tourism stakeholders.
Travel + Leisure Australia is the world's leading travel magazine, with eight international editions, including the US, China, India and Australia. The magazine for travellers not tourists, T+L showcases the finest travel writing and photography both here and abroad.
» Click here for the full article or visit www.travelandleisure.com.au.
---
Green Corridor
The Green Corridor Project is a community partnership project to revegetate and remediate the Barron River from the upper catchment to the mouth, involving volunteers to create a green corridor of restored riverine ecosystems. The project aims to restore the health of the river system.
The Green Corridor is a 20 year plus initiative. that is to be delivered through a partnership between community, landholders, industry and government.
Don and Judy Freeman founders of Tjapukai and Indigenous Tourism consultants who have a property on the Barron River have become partners in the project. Both Don and Judy are focused on social, cultural, and environmental responsibility and they find the project an ideal venue to verify their commitment to these concepts.


---
Short Bits

Aurukun Wetland Charters
The fishing season on the Archer, the Ward, and the Love rivers has been sensational this year with the MV Pikkuw doing lots of charters. The Aurukun community is looking to build up its new wetland tourism project. Click here for the full article to get a feel for an experience that could be yours, or visit the Aurukun Wetland Charters website at www.aurukunwetlandcharters.com.


Walker Family Tours
Francis is awaiting the imminent arrival of her new catering van which is being built on the Gold Coast and will be delivered at the end of October. Walker Family Tours has been included in a number of itineraries operated by Masons Tours and by Wilderness Challenge. Visit the Walker Family Tours website at www.walkerfamilytours.com.


Cape York Turtle Rescue
Turtle season has come to a close now and will re-open in June. It was a tremendous season and we are looking forward to a great one next year. Bookings are coming in already. Visit www.capeyorkturtlerescue.com.


Encounter Cape York
Check out the itinerary for the Encounter Cape York package which includes 3 nights at Camp Chivaree at the Cape York Turtle Rescue and 3 night aboard the MV Pikkuw on the Aurukun Wetland Charters. Available dates are:
Sat 28 June to Friday 4 Jul
Sat 12 July to Friday 18 Jul
Sat 9 August to Friday 15 Aug
Sat 4 October to Fri 10 Oct
Sat 25 October to Fri 31 Oct
Visit the Encounter Cape York website at www.encountercapeyork.com.au for more information and bookings.

---