Awards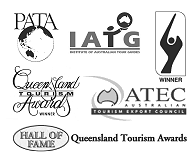 For Tjapukai
Nine Queensland Tourism Awards
Seven Australian Tourism Awards
Two Pacific Asia Tourism Association Awards
Best Attraction: Australian Tourism Export Council in 2001 & 2004
Institute of Australian Tour Guides Award as Best Venue in Australia
Queensland Reconciliation Award
Edmund Rice Business Ethics Award
---
Personal Awards
Chairman's Award for Excellence 2013
In November 2013 the Chairman's Award for Excellence was awarded to Don and Judy Freeman, well known in the region for their contribution to the tourism industry.
Don and Judy Freeman were chosen for the Chairman's Award for Excellence because they were inspirational leaders whose efforts had succeeded in making Australia, and the world, recognise the richness of Australia's indigenous culture.
Travel Innovators Award 2007
The significant legacy of local indigenous tourism pioneers Don and Judy Freeman of Kuranda has been recognised in the 2007 Travel+Leisure Travel Innovators Awards. T+L editor Anthony Dennis said the awards saluted 20 Australian individuals and partnerships, who, through their vision, flair and dedication, enhanced the experience of travel.
Outstanding Contribution to Tourism Award - Inbound Tour Operators of Australia
As early as 1992 Don and Judy were recognized for their significant work in the creation of Australia's first Aboriginal Tourist attraction. They pioneered a new industry and paved the way for other Indigenous businesses to succeed.
Tjapukai became a role model for the country and its founders were recognized by their peers for their efforts.
Centenary Medals of Honour
Don and Judy's work in the area of Indigenous tourism and the success of their multi award winning business, Tjapukai Aboriginal Cultural Park, was recognized when the couple were both awarded Centenary Of Federation medals by The Hon. John Howard, Prime Minister of Australia.
The medals acknowledge the benefits to the regional and wider community of the Freeman's 20 year project, which began in the basement of a shopping centre in Kuranda and is now Australia's most awarded attraction.
Don and Judy were also recognised for their contribution to Indigenous and broader tourism issues.
Cairns Business Woman of the Year 2002
Judy Freeman was awarded the honour of Cairns Business Woman of the year in 2002. "Be passionate about what you do and keep driving yourself further, embracing new challenges and reach for the stars," were her words.
Tourism Queensland - Significant Contribution by an Individual
As a couple responsible for creating Australia's first ever Aboriginal tourist attraction, Don and Judy achieved the highest honour at the 2002 Queensland Tourism Awards, receiving the Outstanding Contribution by an Individual Award for their efforts in pioneering an industry and succeeding in making Australia and the world recognise just how rich Australia's Indigenous culture is.